A Vision for the Renewal and Rejuvenation of the St. James School & Parish Centre Building & Grounds
St. James School and Parish Centre plays a vital role in the St. James and Our Lady of the Valley community.
It is in the best interests of all stakeholders that this facility continues in its current role. In order to do this, consideration must be made for the reconfiguration and updating of the school and site.
A vision of the school, incorporating the existing Parish Centre and newer classrooms and removing the original section of the school, is being developed.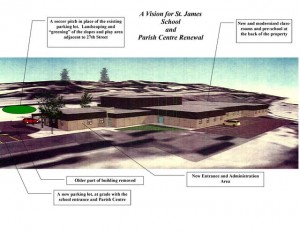 • 8 new and modernized classrooms, Kindergarten to Grade 7, plus administration area and multi-use rooms
• A two room daycare
• Improved access to the St. James Parish Centre
• A single-storey floor plan to best accommodate access for all users
• Potential to construct in multiple phases, allowing for a smaller, more economical building now, and expanding as required in the future
• Ability to continue to operate school around construction phases
Plans and Resources
• Slide show of 3-D images (5MB Powerpoint Show Download)
• Site Plan — removal of old building; new field; new parking lot
• Floor Plan — proposed additions (entrance/administration + classrooms)
• Building Profiles/ Elevations