St. James is a welcoming school community, inspired and guided by our faith. We strive to provide academic excellence while inspiring students to be enthusiastic, caring and active participants in a wide range of sports, clubs, and extracurricular activities.
Our Mission Statement at St. James:
"As an essential instrument in strengthening the Catholic Faith, St. James School exists to develop the whole person as a Christ-centred member of our community."
T.A.B. at St. James School!
St. James School participates in the Take A Breath (TAB) program. This is an initiative that coaches all students, families, and staff on how to better manage anxiety and stress. This is a growing epidemic in our society, and Jeff and Sonya Thomlinson, of Kelowna BC, have developed an excellent resource to assist us in our awareness and ability to overcome the debilitating effects of stress and anxiety.
Please visit our personalized website:
https://www.mindfulrestoration.com/st-james
password: sjsvernon
Please use the following address to access your calendar from other applications. You can copy and paste this into any calendar product that supports the ical format (used for smartphones, tablets etc.).
https://calendar.google.com/calendar/ical/webcalendar.sjs%40gmail.com/public/basic.ics
Please use the following address to access your calendar in any web browser.
https://calendar.google.com/calendar/embed?src=webcalendar.sjs%40gmail.com&ctz=America/Vancouver
St. James School Prayer
Heavenly Father,
Down through the ages, You have called your servants to build up Your house for Your glory.
Be with us now as we build a firm foundation for the future of Saint James School.
Protect those who work for this end.
Reward the many friends of this school community who have generously helped us in the past.
Help us to build a strong community here where the children's faith will be safeguarded and their academic education will be happily completed.
We ask this through Christ Our Lord.
Amen
St. James, and all the saints:  Pray for us, that we may be made worthy of the promises of Christ.
St. James Test Drive
Not sure if St. James is right for your child?
You can arrange for your child to spend 1 or 2 days at St. James to "get a feel for the place." Call our principal, Mr. Paul Rossetti, at 250-542-4081 or email principalsjs@shaw.ca if you would like to explore this further.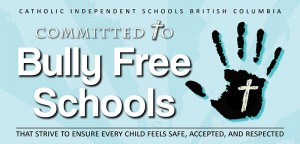 Where every child is safe, accepted and respected.